Latest Doings in Goldfield, Nevada
Goldfield is getting a new gold mine! In my May, 2016 Rock&Gem article on Gemfield, I wrote that a new mine might be coming to Goldfield. It's going to happen. This will be an open pit operation, not a hard rock mine. This will bring some high paid jobs to the Goldfield/Tonopah area for at least several years. The pit may go down only three to five hundred feet according to one geologist I talked to.
People will notice fresh pavement and a realignment of I-95 just north of the city proper. That's because the original mine owner paid tens of millions of dollars to Nevada to move the road! This better accommodates the mine's plan of operations, the main pit to be extremely close to where old alignment was. There's turbulence in the mining industry as always, I understand that ownership of the Gemfield Project has been sold three times since 2016. Gemfield Resources appears to be the current owner.
Perhaps to capture this new wave of construction, Valero in several months is opening a 24 hour travel plaza in Goldfield. That means Goldfield residents will finally have a gas station in town and a convenience store. Right now, the only source of food in Goldfield is the Dinky Diner restaurant, normal hours, and a General Store that is only open "sometimes" and has been for sale for at least two years. This travel plaza is significant because it will take big rigs, the next truck stop going south being at Armagosa Valley, 93 miles away.
I expect Goldfield to perhaps increase in residency between these two happenings but any new resident will still face a 5,500 foot altitude with temps in the low 20s in the winter, along with snow and the highway shutting down from time to time. Also, no medical services, with the only med clinic a half hour away in Tonopah. No area hospital, no emergency room. People are transported by vehicle to either Las Vegas or Reno for non-emergency problems, a true emergency requires a helicopter ride to whatever city will take them. That could be pricey. On the positive side, an improved water line is coming in as the result of the mine. This will make water more dependable in Goldfield.
Bryan Smalley at Hidden Treasures said that he recently had a very good month. William Vanderford at Vanderford's Gold Strike, on the other hand, is rather desperate for money and has been having a terrible time getting by in this crisis. He only accepts cash because of credit card company minimum monthly fees and says no one traveling has cash or wants to spend it. There are no big banks in Goldfield and neither in Tonopah, although there is one small but true bank in Tonopah. I talked to a roadside vendor in Beatty and he says he loses 60% of his sales because he doesn't take cash. Both are now thinking of using Square, that handheld card reader you see vendors at Rock Shows using. For now, for all of the Southwest, bring cash.
Sharon Artlip continues work on the Gemfield Gems Chalcedony Claims but is also helping renovate the International Car Forest of the Lost Church. This is an interesting and recent video on the Forest:
URL of the video is here:
https://www.youtube.com/watch?v=PRKS1IWbOec
The creators mention a lack of trash at the site, this is something Sharon and company have been working on. They've also been repainting offensive graffiti when it appears as well as sprucing up the place in general.
Oh, the creators of the video, Cory and Honey, mentioned hitting a bathroom before visiting the Forest. The Forest does have a porta-potty, however, the city of Goldfield maintains public bathrooms at First Street and I-95 on the west side of town. I-95 serves as the main street running through town. The bathrooms are in the Goldfield Visitor Center parking lot, the Center itself open only when volunteers man it. The bathrooms always seem open during the day. I'm not sure about if they are open at night or if they were open during the pandemic. The bathrooms have running water and the parking lot easily takes RVs. See details at the end of this post.
Goldfield Art & Business Services
306 Crook Avenue
P.O. Box 121
Goldfield, NV 89013
775-485-3789
37°42.560′ N 117°14.284′ W
https://www.facebook.com/pages/category/Business-Service/Goldfield-Art-Business-Services-178494142352005/
Look for the "Gemfield Headquarters" sign at the top of this building. You can register to go out to the claims from here and you can also pay for whatever rocks you collected. A dollar a pound. Sharon Artlip has returned to this location and rocks from the claims are here along with old maps and documents and miscellany. As with everything in Goldfield, call to make sure they are open. Contact Goldfield's Chamber of Commerce if necessary.
The Gemfield Gems Chalcedony Claims website is at the link below:
http://www.gemfieldnv.com
Hidden Treasures Trading Company
489 Bellevue Avenue
P.O. Box 512
Goldfield, NV 89013
775-485-3761 – Voice mail box is usually full
775-485-3485
37°42.220′ N 117°14.066′ W
https://www.facebook.com/HiddenTreasuresTradingCo/
One of my many posts on Hidden Treasures:
https://southwestrockhounding.com/2019/04/25/bryan-smalley-and-hidden-treasures-trading-company-in-goldfield-nevada/
Bryan Smalley runs one of the Southwest's most eclectic rock and gift shops. He is expert on local rockhounding and accomplished at cutting and lapidary. He does knapping and can talk authoritatively on making flintlock strikers from locally collected chalcedony. It is sometimes difficult to find him at his shops, three buildings in total.
Ask locals where Bryan is if you can't find him. Try the Dinky Diner. The friendly Goldfield citizens won't mind your asking. Bryan has a minimal web presence since he focuses on finding rocks and cutting same. And making doors and entire buildings. Make sure to stop when investigating the Gemfield Gem claims. Tell him Tom said "Hi" and if you have a rock that needs cutting, ask him if he has the time. Oh, and buy something!
Bryan Polishing a Jade Piece from Thomas Farley on Vimeo.
—
Florence and Rustler #2 Mine Tours
Goldfield, NV
Call or text for information and reservations:
James Aurich: 702-622-0500
Jon Aurich: 702-622-1344
Guided surface and underground tours by appointment. The surface tour views head frames, hoist houses, the black shop and more. Great views of the surrounding country which are pockmarked with the craters of old mines. One mile from Goldfield on an easy dirt road. Private residence on site. Those with mobility issues should bring up their condition with the owners before visiting.
This page linked below contains photos and mine history. Information on the Florence exists in different places on the web, including Mindat.org.
https://www.yelp.com/biz/florence-mining-company-goldfield-4
Vanderford's Gold Strike
William D. Vanderford, Consulting Geologist
775-485-3252
Mailing address:
P.O. Box 27
Goldfield, NV
Shop location:
Highway 95 on the west side of town.
Eclectic materials, well worth a stop. Rocks, mineral samples, more. Please bring cash, William is not accepting credit cards at this time. Some of his jewelry is rare and understandably expensive, he says many people walk away from a piece because they didn't have enough cash. He stopped accepting plastic when the credit card companies started charging him extra for failing to meet a certain dollar level each month. These fees are murderous to small businesses and you will find that cash is still king all over the rural Southwest.
Old YouTube video but a good look at the store:
https://youtu.be/I0nFH0Lfh8Q
A single shot of Vanderford's below: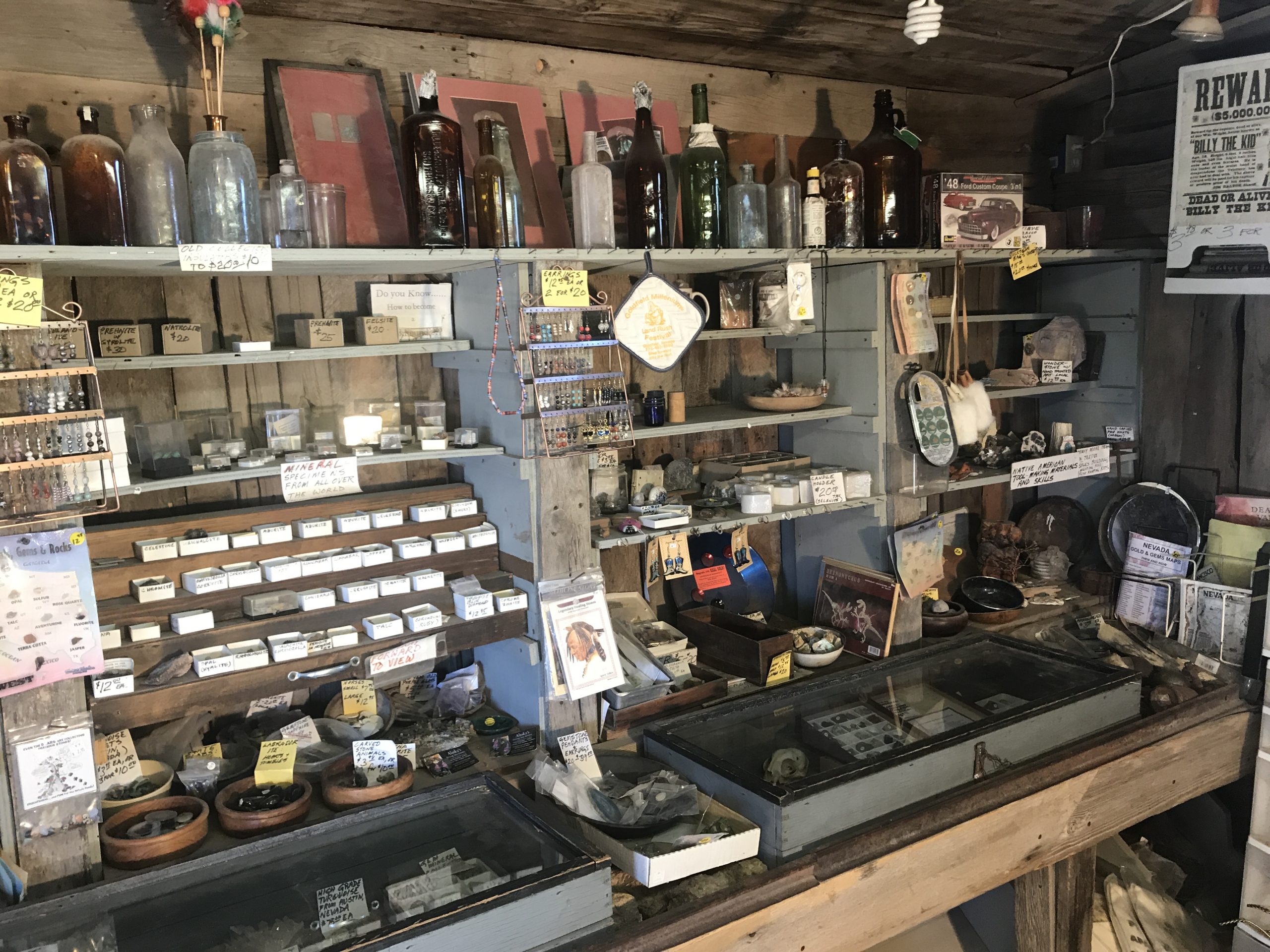 —
The Dinky Diner
323 Crook Avenue
Goldfield, NV 89103
775-485-3231
37°42.453′ N 117°13.946′ W
Menu:
http://places.singleplatform.com/the-dinky-diner/menu?
Your place to eat in Goldfield. Skip a meal in Beatty or Tonopah and eat instead in Goldfield. It will be worth it. Only place in town to eat but this business does not take advantage of that, they try very hard. Small-town life; strike up a conversation with the next table. They will fix anything to go if you don't have time to dine.
The Dinky is right on I-95 in Goldfield, essentially Main Street. You may miss it coming in from the south. Turn around where convenient but watch your speed and where you turn as an Esmeralda County Sheriff is often waiting to catch speeders. Slow down!
A few years ago, I stopped into Goldfield to research that Rock&Gem article I wrote about earlier. The waitress asked me what I was doing in town. I said I was meeting Sharon Artlip to discuss her chalcedony claims. "Oh, yes," the waitress said, "Sharon said you were coming in."
I recommend the BLT for lunch and the cheeseburger for dinner.
"My mom and I own this business and we are just trying to serve awesome food. With a good environment and great people. Hours are 8 am to 4 pm, every day except Sundays when we close at 2 pm. Hope to see you soon!" Karie L.
Public Bathrooms and Goldfield Visitor Center
Bathrooms are in the Visitor Center parking lot which can easily take large RVs and has trash barrels. Running water in the bathrooms. The Visitor Center itself is often closed, volunteer staffed.
37°42.561′ W 117°14.263′ N

—
https://www.instagram.com/tgfarley/
Follow me on Instagram: tgfarley