This odd looking lump is on my friend's horse ranch on Carbondale Road, outside of Plymouth, California in rural Amador County. Near the center of California's Mother Lode Country. I wrote about this place in a previous post. The soil is nondescript, red foothill clay, with the most common rock underfoot being broken pieces of iron stained quartz.
And then there is this thing, which my first guess was a bunch of leftover concrete that someone had attempted to color. Perhaps they dumped out their concrete mixer at this spot? There is no sign of any unusual concrete work in the area, but who knows? I did not have my rock hammer as I was traveling and renting a vehicle.
Usually concrete aggregate has much smaller stones than the blobs we see here. I am up to any guesses. There is a creek nearby with what I presume are rounded stones but it is not on my friend's property so I haven't checked it out. I can't imagine anyone making their own concrete with locally collected rock, think of the work, but I suppose it is possible.
Another possibility is siderite, which Mindat.org lists as being in the general area. A nice man named Brice on the Facebook group, Rocks and Minerals – identification and information, made this suggestion.
Siderite is an iron mineral, of which I am only now reading about. Apparently, siderite is valuable mineral in theory since it contains a high amount of iron, possibly 48%. In such a small outcropping it is totally uneconomic but an interesting curiosity to any rockhound or mineral collector walking the woods. Its presence may lead to the discovery of other nearby minerals such as manganese.
The odd looking lumps may be large siderite crystals that have weathered to their present shape over time. More on that below.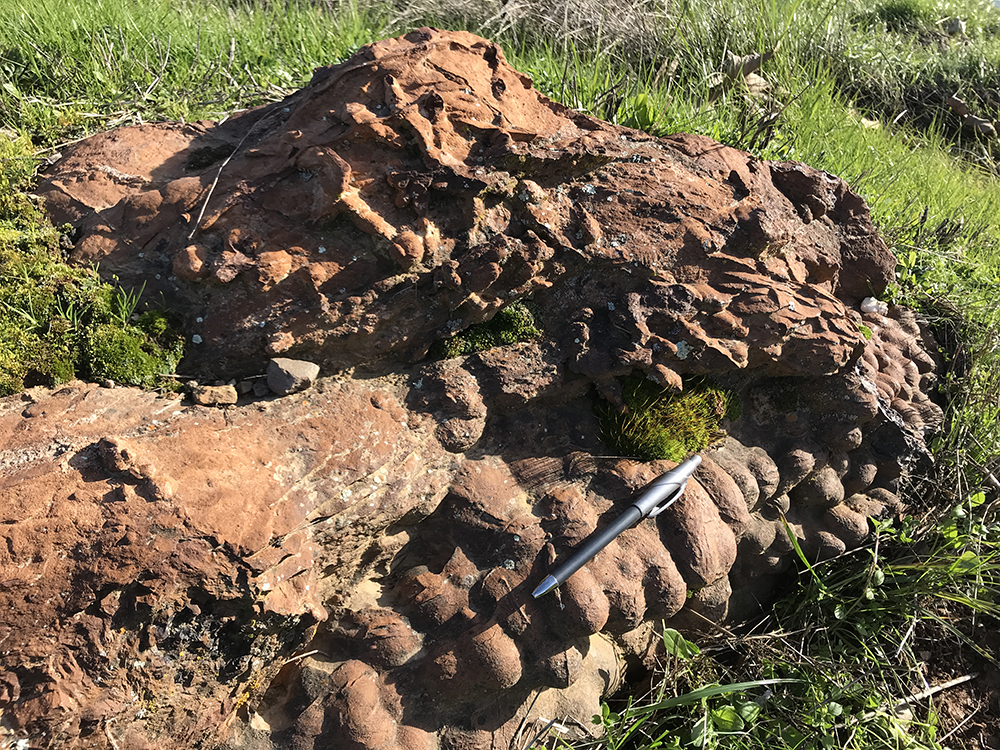 This is an overall view of what I will call for now, the outcropping. For a much larger picture to ponder over, click here. Or click on the photo itself.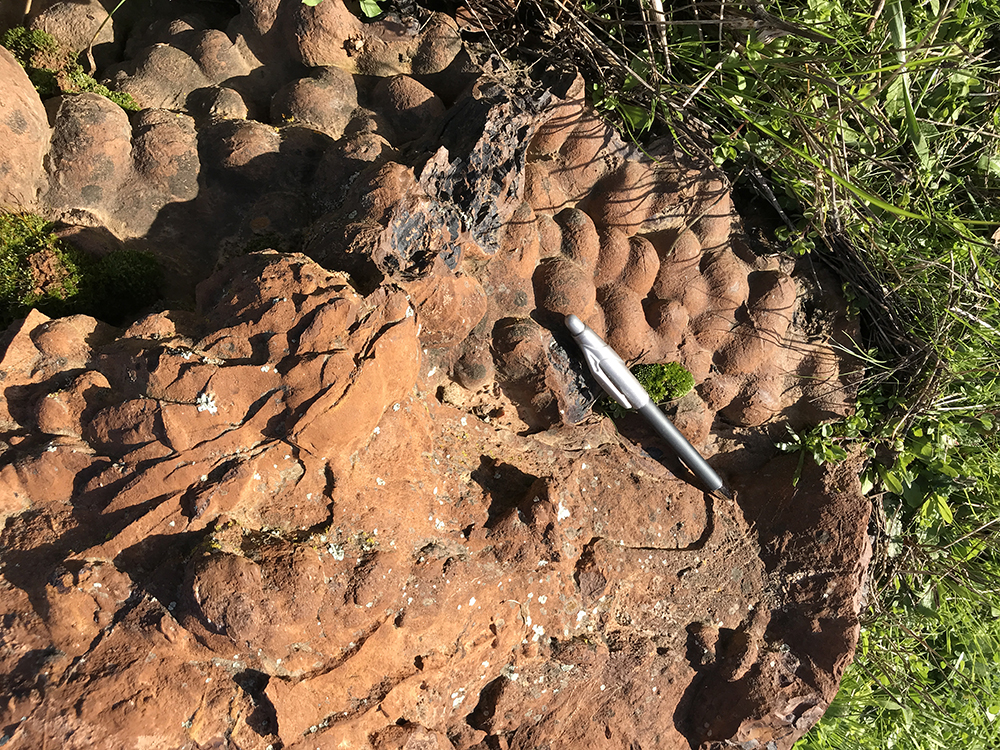 Closeup photograph. Pen for scale.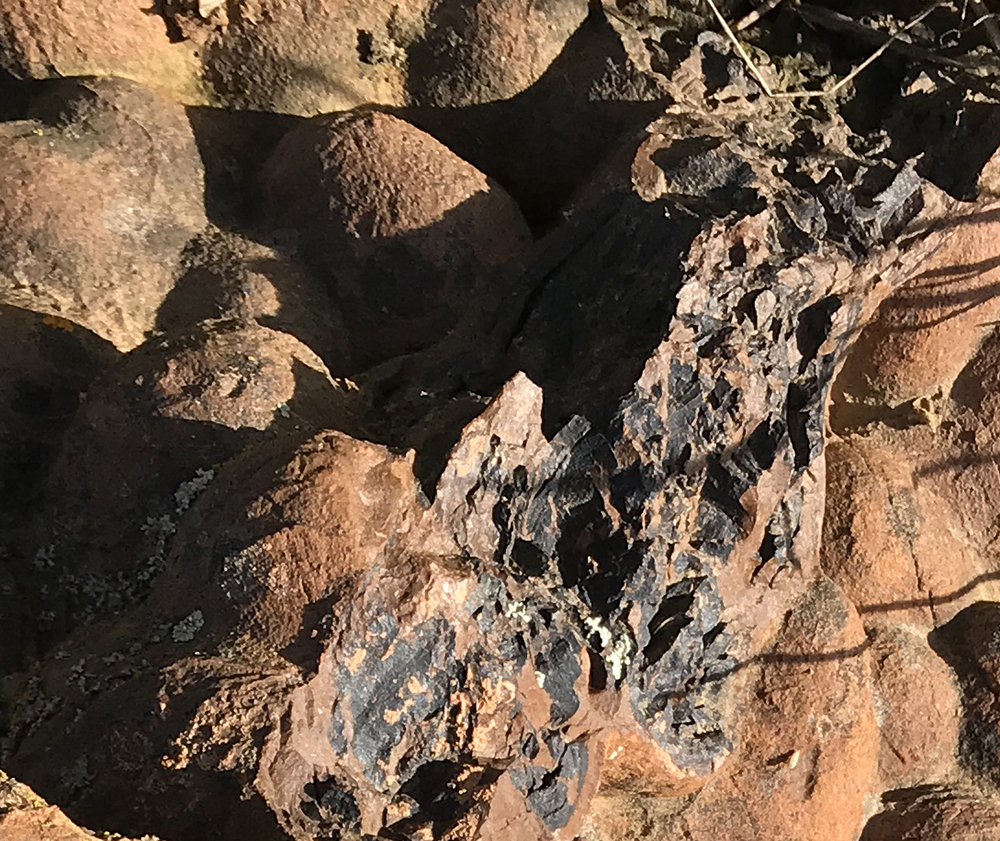 A damaged or otherwise altered section of the outcropping. Broken concrete doesn't turn black, it retains a whitish color due to the Portland cement. If the concrete were mixed with a colorant originally, however, in the drum, the color would run throughout the mix.  But you would have one color, and not two as in the photo. An iron ore deposit just might make sense. The outer layer has weathered and oxidized red, rusted if you will, while the more newly exposed material has yet to change.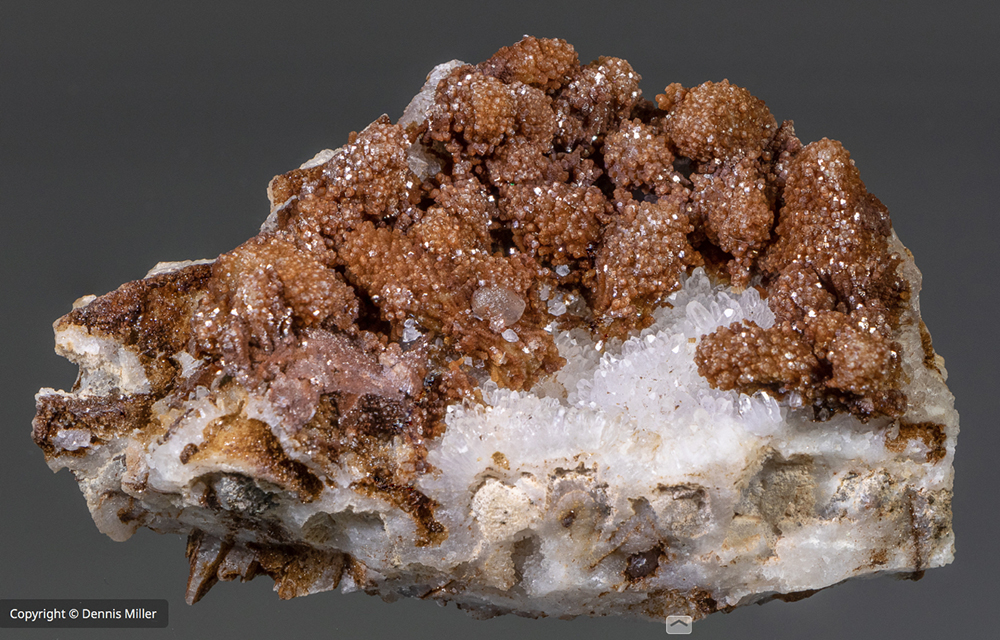 The above picture is courtesy of Dennis Miller. Used with permission. It's siderite from an area near Chihuahua, Mexico. Note the globular forms. I'm speculating that the globular material in the outcropping I came across are weathered, eroded permutations of this siderite's original form. Or not.
The Henry Holt Guide to Minerals, Rocks, and Fossils (very British) says that siderite crystals can be, "[M]assive, fibrous, compact, botryoidal, or earthy." The outcropping seen here is definitely botryoidal.
The book goes on to say that massive siderite is widespread in sedimentary rocks, however, this area is in the Sierra Nevada foothills, granite, quartz and slate country. Judging from my experience in nearby El Dorado County. There are notable, economic clay deposits several miles distant, which leads me to this quote from Holt's book.
"Massive siderite is widespread in sedimentary rocks, particularly in clays and shales where it forms clay ironstones which are usually concretionary in origin."
Concretionary. And an outcropping that looks like concrete. Iron stains every piece of broken quartz on the ground. So iron must be in the soil. Can anyone put this all together?
Mindat doesn't show siderite as found in Amador County, however, these reports are usually confined to recording occurrences of economic value. Or a citation in the scientific literature. Like in a geology report. Not all outcroppings everywhere can possibly be recorded. Siderite has been reported in the county of El Dorado, immediately north, and Calaveras, immediately south. In the plant world, we would call an occurrence in a new area as a range extension. And you thought rocks and minerals had a peculiar vocabulary!
I am waiting on a local rock and gem club member to tell me what he thinks the outcropping is. And I will have a friend test the outcropping with a magnet. That may be diagnostic. Although I see on Mindat that siderite is paramagnetic, a new term for me. It essentially means weakly magnetic. I'll mail my friend one of my rare-earth magnets. Maybe that will make a difference in testing. I'll report back later. Thanks, again, Dennis, for the photograph.