Rob Ernst explains large concretions at a one-of-a-kind fee dig in Southern California. These large specimens are retained for education and scientific research, however, one can keep nearly anything dug up in a designated area.

For a limited time each year, the Ernst Quarries near Bakersfield opens much of their ground to the public to collect marine fossils. Shark teeth are the big draw. Rob will patiently and enthusiastically explain the ocean environment that was present 150 million years ago. Tiny to small shark teeth are everywhere, they can even be found on the surface. Digging and screening with persistence will reveal bigger teeth on most days.
I got to the Quarries on a spring day threatening rain. Weather can knock out a dig when the quarry road becomes impassable. Depending on conditions, Rob may arrange for people to walk a few hundred yards from their cars to the dig sites, rather than cancel a date.  Rob is keenly aware that people from as far as back East make flight plans, car rentals, and hotel reservations to get to his property. He does everything he can to make dig days happen.
Visitors can help by reading the information packet sent to them by e-mail and by  printing out the location  map and release form ahead of time. As of right now, there is a road repair project happening on Round Mountain Road with traffic control in effect. When leaving the property, wait for a pilot vehicle before turning onto Round Mountain, otherwise, you may wind up facing a line of traffic coming directly at you in the opposite direction.
The shark teeth pictured below were gathered by surface collecting over no more than fifteen minutes of off and on looking. I was there to take photos, not to dig, Rob and I simply spotted these scraps while walking the property.
The white teeth and fragments show  bleaching caused by lying on top of the ground. The teeth with more color were pulled from the ground as these show indications on the surface of where some teeth are. I'd say your chances of finding something better over a period of a few hours of actual digging and screening are pretty good. Note the nice little one in the shadow.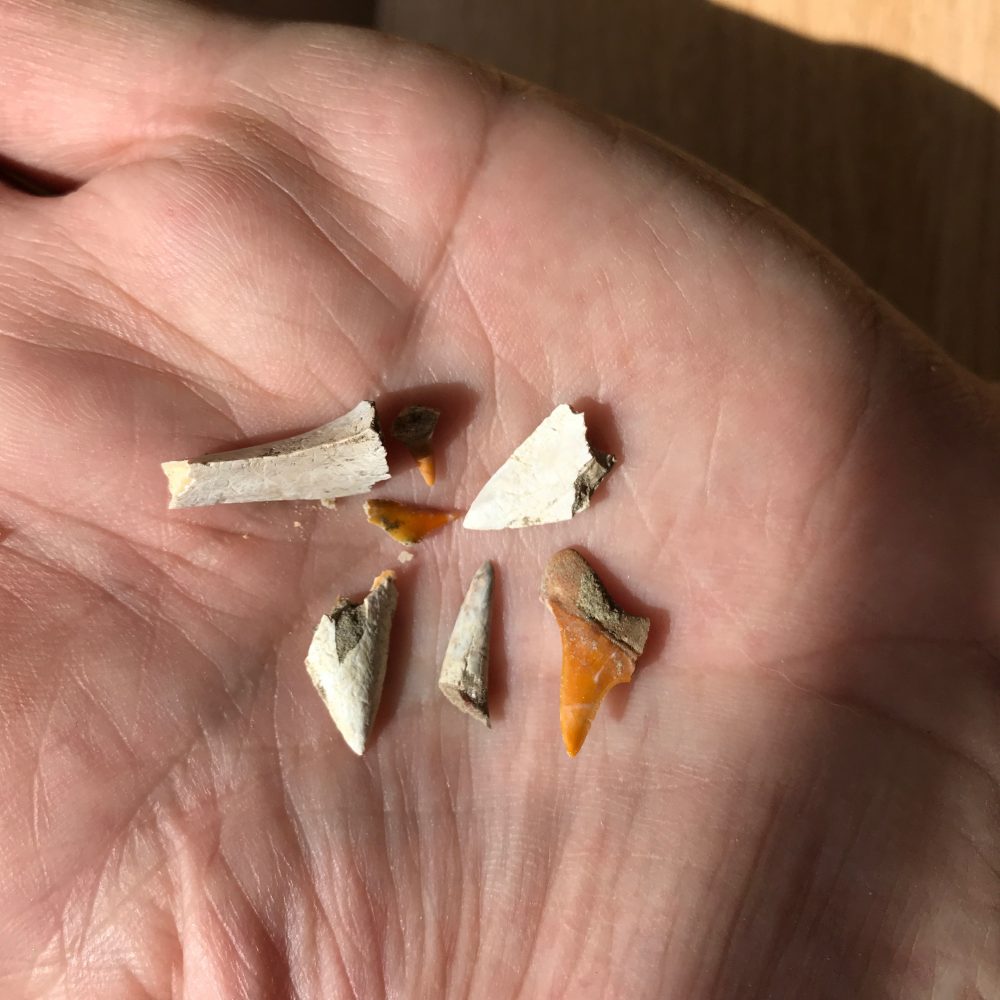 Make sure to look for other things. Jeff spotted these two vertebrae pieces lying on the ground of a trench. Although identification is often impossible for vertebrae of this period, he thinks they may be from a junior whale or a sea lion. Perhaps. He also says that upon close examination of fossils like these, most show tooth marks, evidence of the food chain in action from long ago. Few things died a natural death of old age.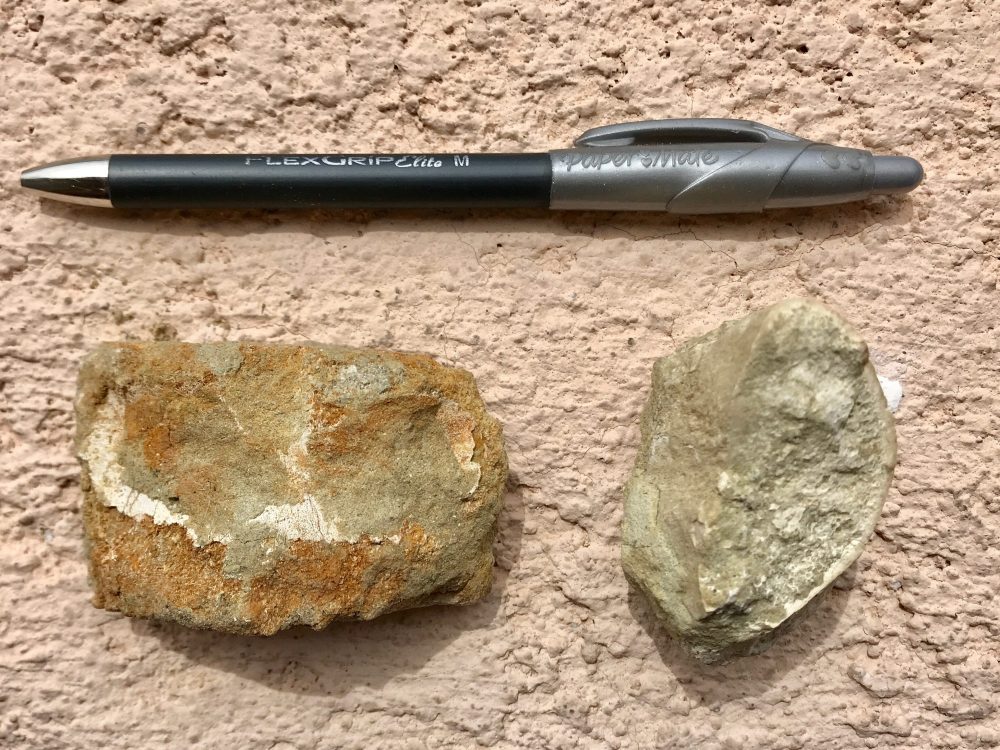 The image below shows a tooth in matrix, this one recovered by Rob or an associate.I think this looks better than a tooth alone. Be careful in digging as its possible you could come across something like this. The silt will now have to be stabilized first, perhaps with a diluted solution of Elmer's white glue and water.  Rob can explain how to do this.
I knew nothing about marine fossils when I went and my trip opened my eyes into another world of collecting. Rob and his family are highly motivated when it comes to educating people on ancient marine life and on letting academics pursue research on their. property.
The site is also a staple of school field trips from all around the Bakersfield area. In many cases this may be a student's first research or outdoor related experience. In addition, Rob takes buckets of dirt (silt) from the hill to schools to let students screen the material for tiny shark teeth. I don't mean to gross you out but sharks are born with embryonic teeth and as soon as they are born they start eating each other. Hence, plenty of tiny teeth in every scoop of soil.
Sadly, the quest to keep the quarry open is a poverty pursuit. Dinosaur sites get the majority of funding, possibly because dinosaur bones and such sell tickets at museums. Marine life, not so much.
Shark tooth collectors are as rabid as rockhounds are about their pursuit. If you are lucky and put in the hours, you might have a chance at finding something like the tooth below. This dig is highly recommended and I wish you luck if you go.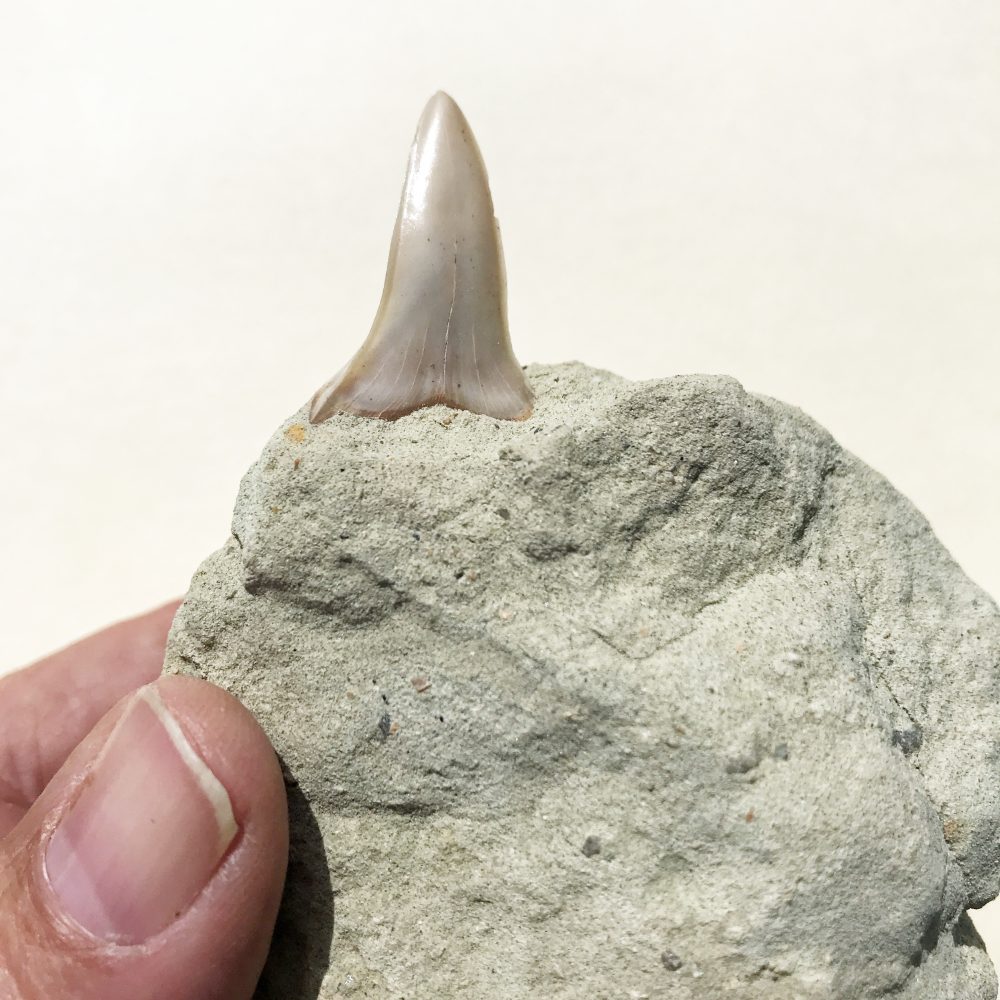 The summation below is from my document entitled Places to Visit and Rockhound in the Southwest
Fee/Dig: Bakersfield area fossils
The Ernst Quarries / Shark Tooth Hill
Round Mountain Road
Bakersfield, CA 93308
Directions at their website, no street address for the gathering point
661-319-7800
35°26.779′ N 118°53.924′ W
The coordinates above are for the staging area but do not rely upon them. They were not provided by the operator of the quarries. I took them at the meeting point. Follow the complete driving directions at their website.
http://sharktoothhillproperty.com
"The Ernst Quarries, located near Sharktooth Hill, California, are home of the largest deposit of Miocene marine fossils in the world. The property sprawls over 260 acres and comprises three distinct quarries. Each quarry yields fossil specimens of various colors and varieties. Together, they offer a unique natural history experience not found anywhere else."
This 150-million-year old collecting site is a fascinating visit. Shark teeth are the big draw and in small sizes are plentiful to collect off the ground with patient looking. Larger sizes require digging and screening. The dig site is in isolated hills, so bring everything needed for the day: food, water, sunscreen, gloves, and so on. (Even toiletry supplies if you know what I mean. ) Not open after big rains or in the summer. Late April or early May maybe the driest months in spring but there is no guaranteeing the weather. The fall is good.
Rob Ernst is the gracious guide and thoughtful owner of the quarries. He provides frequent updates on his website about hill conditions and if a dig will proceed on schedule. Visitor signups are through his website. Bring cash or a check to the staging area. Download the information package beforehand and fill out the release form before arrival. This is very important for visitors coming from long distances who may not have a printer at their hotel.
There are alabaster or gypsum rocks on the hill and selenite crystals, also in rock form. Ask Rob if you can go poking around. Look, too, for marine vertebrae when you dig, not just shark teeth. On my visit I picked two off the ground without digging. Rob said they could belong to anything from a junior whale to a sea lion, the identity now lost to time. Interestingly, he said that close examination of anything like this material eventually reveals tooth marks. It was not an easy life in the ancient seas.
In case of a rainout, a rockhound can see pieces from the quarries by visiting the Buena Vista Museum of Natural History and Science in Bakersfield. Visiting before a dig is an excellent way to get oriented. The museum is at 2018 Chester Ave. Bakersfield, CA 93301. Also of note is the California Living Museum, 10500 Alfred Harrell Hwy., Bakersfield, CA 93308.
Special Note: for the Fall Season:
"Due to ongoing construction activities, we currently cannot support any low-profile vehicles. This includes cars such as Mini's, VW Bugs, and custom lowered vehicles."
http://sharktoothhillproperty.com/index.htm