Rob Ernst explains large concretions at a one-of-a-kind fee dig in Southern California. These large specimens are retained for education and scientific research, however, one can keep nearly anything dug up in a designated area.

For a limited time each year, the Ernst Quarries near Bakersfield opens much of their ground to the public to collect marine fossils. Shark teeth are the big draw. Rob will patiently and enthusiastically explain the ocean environment that was present 150 million years ago. Tiny to small shark teeth are everywhere, they can even be found on the surface. Digging and screening with persistence will reveal bigger teeth on most days.
I got to the Quarries on a day threatening rain. Weather can knock out a dig day when the final stretch of quarry road becomes impassable. Depending on conditions, Rob may arrange for people to walk a few hundred yards from their cars to the dig sites, rather than cancel a date.  Rob is keenly aware that people from as far as back East make flight plans, car rentals, and hotel reservations to get to his property. He does everything he can to make dig days happen.
Visitors can help by reading the information packet sent to them by e-mail and by  printing out the location  map and release form ahead of time. As of right now, there is a road repair project happening on Round Mountain Road with traffic control in effect. In leaving the property, wait for a pilot vehicle before turning onto the road, otherwise, you may wind up facing a line of traffic coming directly at you in the opposite direction.
The image below show a tooth in matrix, the species I do not know. I think this looks better than a tooth alone. Be careful in digging. The silt will now have to be stabilized first, perhaps with a diluted solution of Elmer's white glue and water.  Rob can explain how to do this.
I knew nothing about marine fossils when I went and my trip opened my eyes into another world of collecting. Fossil collectors are as rabid as rockhounds are about their pursuit. If you are lucky and put in the hours, you might have a chance at finding something like the tooth below. This dig is highly recommended and I wish you luck if you go.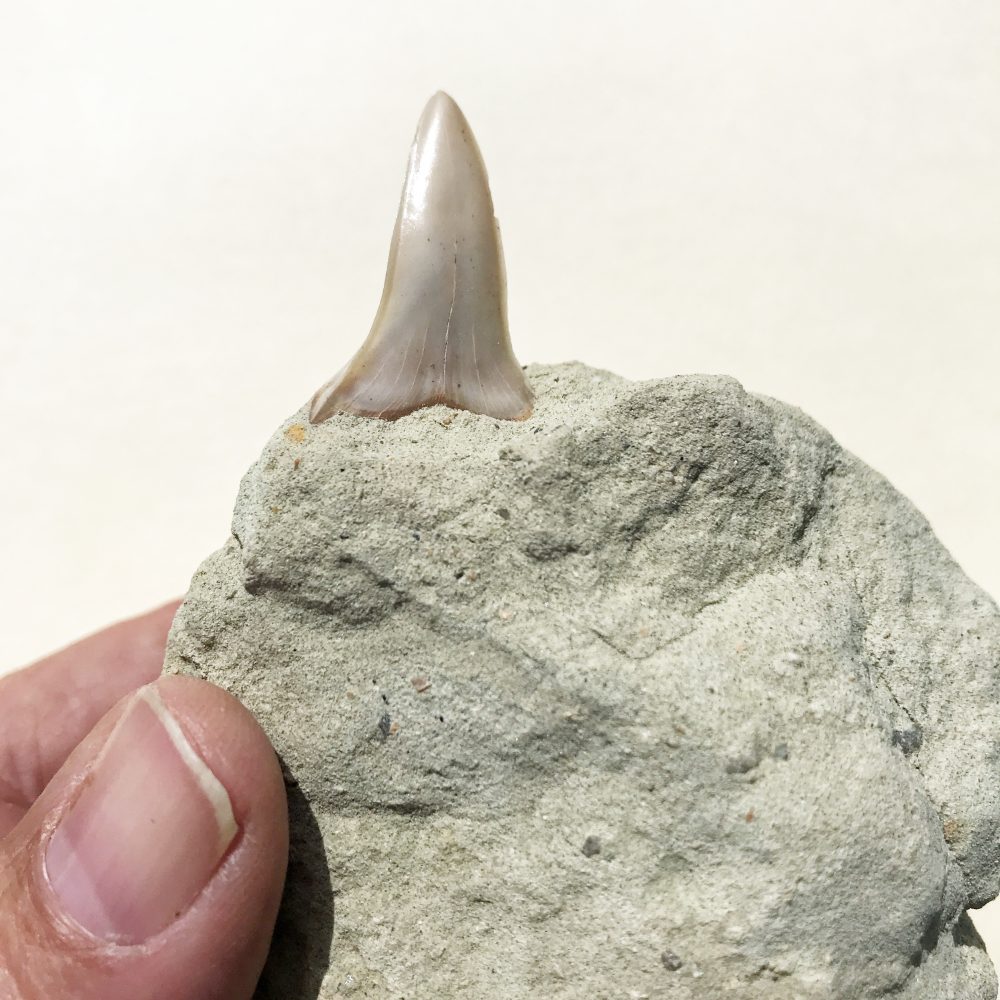 The shark teeth pictured below were gathered by surface collecting over no more than fifteen minutes of off and on looking. The white teeth and fragments show  bleaching caused by lying on top of the ground. The teeth with more color were pulled from the ground as these show indications on the surface of where some teeth are. I'd say your chances of finding something better over a period of a few hours of actual digging and screening are pretty good. Note the nice little one in the shadow.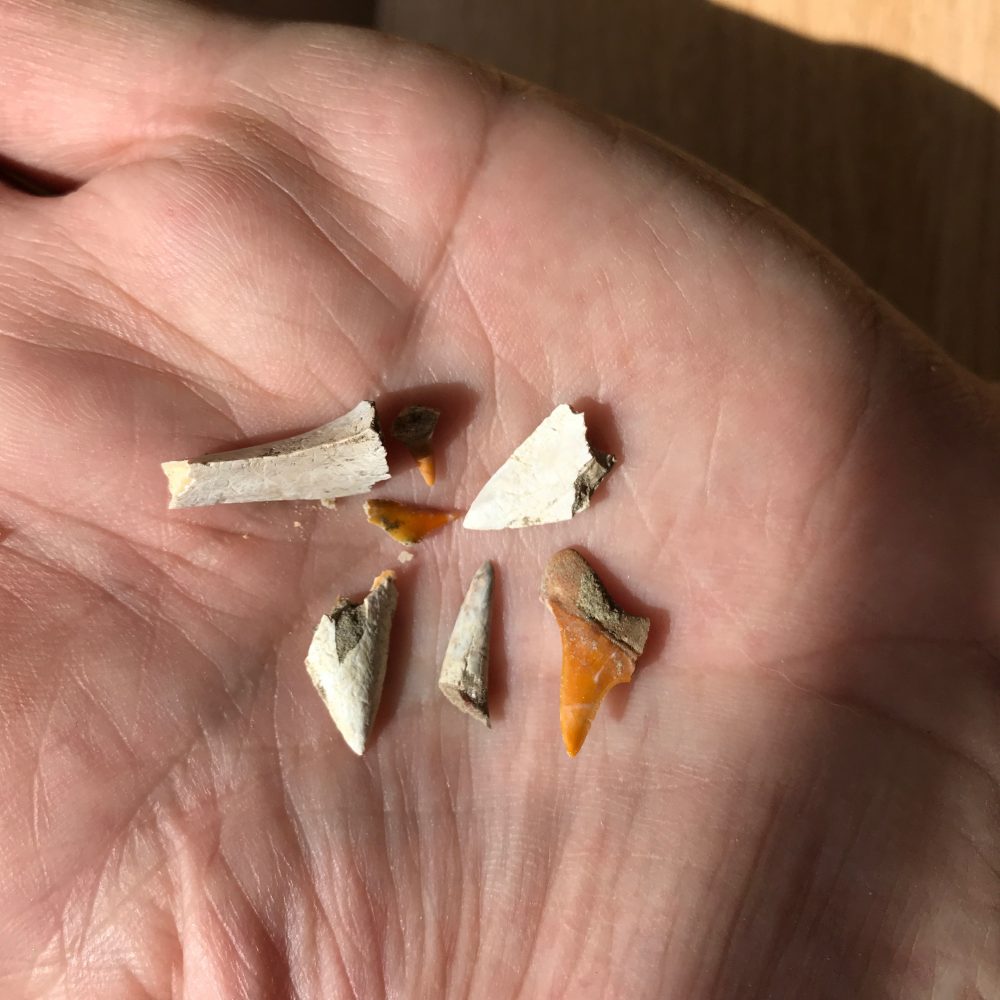 Make sure to look for other things. Jeff spotted these two vertebrae pieces lying on the ground of a trench. Although identification is often impossible for vertebrae of this period, he thinks they may be from a junior whale or a sea lion. Perhaps. He also says that upon close examination of fossils like these, most show tooth marks, evidence of the food chain in action from long ago. Few things died a natural death of old age.