The best laid schemes o' Mice an' Men, Gang aft agley
I planned to get back to Railroad Pass today to sample drainages for colors. But I injured myself again and I can only walk slowly, carefully, and in pain. If I can get to my physical therapy appointment tomorrow I might some pointers on what to do. Aspirin certainly doesn't help.
This delay might be good. Alunite specimens are in the mail for me and they might get here Saturday afternoon. I read they fluoresce orange under long wave. That would be tremendous since it would make night hunting on a difficult hill easier. The Convyoy C8 Dragonfly I have is a great hunting flashlight, much easier to operate than my bulky and heavy SW lamp. (Although that lamp from UV Systems is very bright, about 18 watts, totally reliable, and the battery lasts for hours.)
While the Dragonfly is great for hunting, its narrow and concentrated beam is too bright for bench or display work. It blows out colors on most materials. What might be a soft orange under a normal lamp will probably turn into a white spot at close range with the Convoy.
Again, while not a display lamp the Dragonfly might be the best LW hunting tool anywhere. I can hold it in one hand while holding onto a hiking stick with my other and it is almost bright enough to use as a pathway flashlight. It proved great on some steep hills at Darwin.  Have extra batteries and don't run it continuously. You shouldn't need to as a hill or other area can be scanned pretty quickly. And, yes, the battery charger for it is weird and funky.
If you do go out on a night fluorescent mineral hunt right now, make sure you are close to a populated area with emergency services nearby and be extra careful NOT to need them. Get yourself to help or self-treat. Most of us have a first aid kit, I'm thinking lately of getting a trauma kit. High risk activities should be curtailed until things get back to normal. Having an SAR crew pull you off a mountain during this pandemic is a criminal use of resources.
One last thing, since we are all concerned with cleanliness in these days of COVID-19. Many people use a "black light" to identify pet stains around the house or to help clean the bathroom. These are usually 5 watt SW units. If you REALLY want to see how disgusting your bathroom is and how much it needs cleaning, get a Dragonfly LW. You will be totally disgusted and in these times of self-quarantining , you will have a multiple-day project to spend a lot of your time. Everything biologic will present itself.
—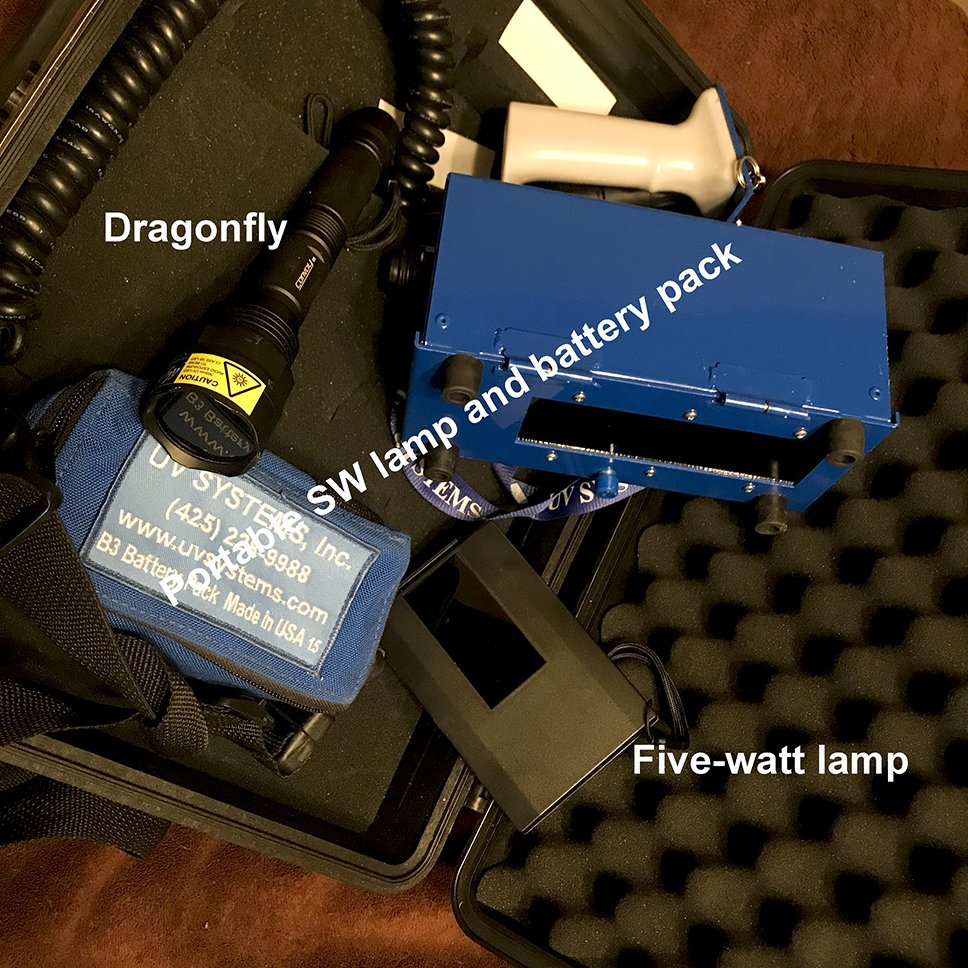 -
NB: All links are unsponsored and there are no ads at my sites. Midnight Minerals is a great company and so is UV Systems.
—
https://www.instagram.com/tgfarley/
Follow me on Instagram: tgfarley