An Adventure to Remember
(so that's why I put it down on paper!)
by Mark E. Frady, Carson City, Nevada
Not that the year of Covid-19 had anything to do with this story, but it actually does, in the fact that three men seemed to be getting bored with self-confinement due to the virus and decided to go out on a rock hunting trip near Fallon, Nevada, for a rock that we had seen in an old rock hounding magazine. This very beautiful and quite unique rock is called Dead Camel Jasper.
http://www.rarerocksandgems.com/articles/Dead_Camel_Story/Dead_Camel_Jasper_Story_p2.htm
To see how the Dead Camel Mountain Range got its name, take a look at this story:
http://www.rarerocksandgems.com/DeadCamel/deadcamelstory.htm .
So, each one of the three of us, Richard, age 72, Randy, age 76, and me, Mark, age 73, researched on Google how to get to the site of where we could find this rock. We were given coordinates by a fellow rock hounding friend, but we also had Google Earth satellite pictures to guide us to the site, which we were told was on the south side of Red Mountain. We hopped into Richard's Ford truck (I should have known better — a Ford???) at 7 AM on Friday morning, December 11, 2020.
The weather was in our favor; not too cold on a beautiful sunny day. We drove out Highway 50 towards Fallon, Nevada and turned off the highway just after Lahonton Dam. Oh, before I forget, Richard was stopped in Mound House by a Nevada Highway Patrol Officer, who claimed that Richard was driving 70 in a 45 mph zone. We did not argue. No sense in doing that. But he was merciful and only wrote a ticket for doing 50 in a 45 zone. That started the day off bad, we probably should have turned around at that time. But we continued on, determined to find that elusive rock.
We now had two options. 1) come in from the west, by going past the dam at the Lahonton Reservoir and head south then west into a canyon at the base of Red Mountain, or 2) come in from the east, out of the town of Fallon. We decided on option 1, which proved to actually be the wrong choice. Randy should have stood his ground and proved to us that option 2 was a better route.
We then headed south past the dam on Karen Road, when we came upon a locked gate after about 5 miles and had to turn around and go back to the dam and head south on Lahonton Dam Road. After a few miles we flagged down a Jeep to ask directions. We did not want to keep driving on that washboard road if we did not have to. The elderly man in the Jeep was either an African-American, or a very weathered and wrinkly-faced white man, wearing hippie glasses and not seeming to want to help us. When we asked if this was the way to Red Mountain, he replied in the negative, and that we needed to go over to another road. He drove off.
According to my map, we were headed in the right direction, so we continued on. Randy's cell phone had a compass on it, with coordinates, so we kept trying to get on the right roads (there are dozens of dirt roads that go off in all directions out there) to get us to the coordinates that our friend gave us before we started this trip. We were doing great now (except for driving around the gate that had a "no trespassing" sign posted). But just before Red Mountain, the road we were on became very, very steep. Looking at the map on my phone, I could see that there was another way to get around this road, to get down to the base of the mountain. So that's what we did — and along the way we had a flat tire, a blowout from a sharp rock that punctured a tire, on a somewhat steep section of the road. There was no way to change the tire there, so Richard kept driving down to a flatter section where we changed the tire and drove on. By the way, we did have about a 15 minute time slot where we were able to do a little rock hunting but we did not come up with anything decent. Close but no.
About 30 minutes later, after driving down a narrow canyon at the base of Red Mountain, suddenly we heard another tire blow, and a third tire blew out immediately thereafter. Yes, you are reading right, we ruptured three tires and now had no more spares. The only spare we had was already used, so we needed two more.
What does one do at this point in the expedition? Think! We only had one option: we had to walk out, sticking together and heading towards Fallon where the closest civilization existed. Grabbed our coats, grabbed our cell phones (we did have occasional cell phone reception), grabbed bottled water. It was 1 PM when we set out on our walk. I forgot to grab my lunch, unfortunately, since I had made a nice ham and cheese sandwich that morning before we departed. On the way, Richard was hoping to hitch a ride with the next car that came along but we had not seen any cars for the past four hours. Gotta keep thinking positive thoughts, though.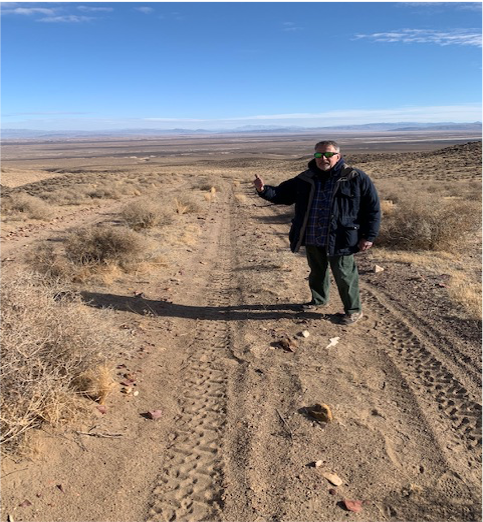 Can you see Fallon off in the distance in this picture? We figured it was about 15 miles. We could manage that hike, right? Well, Randy does a lot of hiking and bike riding, so he could make it. I don't know about Richard, but I think he could have made it. Back in 2009 I fell and broke my hip while rock climbing, but heck, I can walk 15 miles. Never done it, but it had to be done. Along the way, I was beginning to wonder, but tried to immediately put it out of my head; there were no other options.
Well, we tried to think about the best options at this point, as we were walking along, sticking to the dirt roads, and not going cross country, even though it might have been faster to do so. Randy called his wife, Jennifer, back in Carson City, and she came out to Fallon to await another call from us on where to pick us us. That was great but the dirt roads that we were on were not made for Jennifer's city car, so it looked like we had at least about another eight mile walk to get to a decent road where she could pick us up. One of the problems with this was that these dirt roads did not have names, nor, of course, street signs. One road that we could see on our Google map was called "Desert View Road", so we headed towards that. My hip was by now causing me to limp. And limping made my back hurt but I could make it! Another option was to call Search and Rescue by calling 911. We had three cell phones. Randy was just about out of a charge on his phone so we called Jennifer and gave her Richard's and Mark's cell phone numbers. Mark's phone was running out of charge, but I kept turning it off and then back on to look at the Google Earth map. We kept walking.
Looking back on the day, by looking at Google map, we think that we walked about 6 miles in two hours. At that rate it would have taken us another four hours to get to Jennifer. We kept walking. There was no way that I would stop walking. That was not "in the cards".
It's 3 PM. We had walked for two hours, when God sent us angels in the persons of Tom and Madeline Lawry of Fallon, Nevada. Richard saw a silver-colored truck driving parallel to the road that we were on. We waved frantically. The truck stopped. We briskly walked over to them. We thought that they had seen us. We later found out that they had not seen us, but that they had stopped to let their dog get some exercise. They were just out for a drive. They liked to travel around the countryside and enjoy the sights and sounds of the desert. We were happy to hop into the bed of their truck and go back to their home in Fallon, but along the way we called Jennifer and told her where to meet us. She showed up a few minutes later.
We then began to plan on what to do next. It was getting too late to go back to Richard's truck today and take the two flat tires off the truck, take them down to Fallon, get new tires installed on the rims, and get the new tires back up to the truck. Richard asked Tom if he knew anyone that could take us back up tomorrow morning to begin that process. From the way Tom responded, I knew that he was already planning on doing so, and he said so.
So, we made arrangements to meet Tom at his house tomorrow morning, Saturday, at 8 AM, and angel number 3, Jennifer, took us home to Carson City. Richard was worried about his truck, so he did not sleep well that night. I was pooped and slept like a baby. I did not ask Randy how he slept.
Saturday morning the three of us set off again at 6:30 AM towards Tom and Madeline's house in Fallon with it raining and snowing along the way. This was not going to be a nice weather day, but when we got to Fallon, it cleared up, arriving at about 8 AM. Then we had an idea. A better idea than what we had had before. There was no sense in making two trips up the mountain — we could take two tires with us. We called the Les Schwab tire store in Fallon and they were willing to lend us two tires on rims that we could mount on the truck to get it down the mountain. So, we picked up those tires and went back to join Tom and Madeline on our way up the mountain. They took a Polaris Ranger, which looks like this Google Image: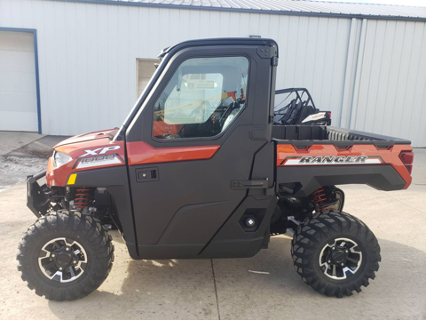 It took an hour to get back to Richard's truck and nobody had bothered or damaged it. We exchanged the fresh new tires for the punctured ones and headed out for Les Schwab, where new tires were purchased and installed in record time, and we were back in the happiness of our homes in Carson City by 3 PM.
That was our adventure, one Friday morning in December of 2020 and the following Saturday.
So, the moral of this story is: when going rockhounding out in the middle of no place, go with another rock hound in another truck.
Mark E. Frady, Minister
Carson City, NV
775.721.9016
[email protected]
www.RevMark1.com
—
Editor's note. Do I have to remind everybody, again, to only use LT or light truck tires off-pavement? I thought not.