The Deming Gem and Mineral Society is once again sponsoring the Rockhound Roundup in Deming, New Mexico from Thursday March 12th, 2020 to Sunday March 15th, 2020. It is the 55th year of the Roundup.
Rock, gems, and minerals will be sold by vendors from all over the Southwest. In addition, the club is putting on field trips and a metal detecting competition.
The event is at the S.W. New Mexico Fairgrounds at 4100 Raymond Reed Boulevard in Deming, New Mexico.
Here's a link for more information:
http://www.thedgmsclub.com/rockhound-roundup/
Look for Richard Mueller at space #64. He operates Miners Gallery out of Alpine, California and will have a variety of excellent materials.
https://www.minersgallery.com/
There's a camping and RV park outside of town that thoroughly encourages rockhounding on nearby ground. Listed below.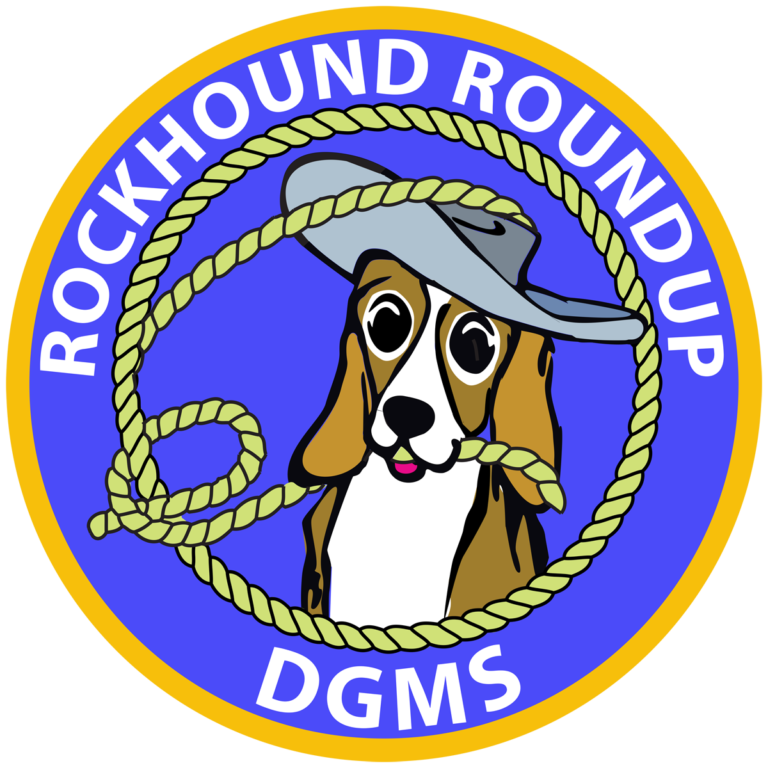 Here's what I have so far on the Deming area from my upcoming book. I'll double check everything before it is published, however, consider what follows as a work in progress.
Deming Gem and Mineral Society
4200 Raymond Reed Blvd.
Deming, NM 88030
575-546-2554
32°15.256′ N 107°42.925′ W
Well worth joining if visiting this great collecting area.
http://www.thedgmsclub.com
Rockhound State Park
9880 Stirrup Road SE
Deming, NM 88030
575-546-6182
32°12.458′ N 107°37.531′ W
"This is the only place in New Mexico and one of only two places in the U.S. where you can take something from a state park," says Manager Robert Apodaca to the Albuquerque Journal. "The most prevalent thing that's readily available for surface collecting is jasper." Visitors to the park also find geodes and thunder eggs, perlite and quartz, Apodaca says.
Ask on arrival whether anything beyond surface collecting is permitted. The park has steep, cactus-studded hills. Watch where kids play. A great place to camp for a few days of hiking and rockhounding. Bring boots and a hemostat or needle nose pliers to pull out thorns. The visitor center has a good rock collection showing what might be found for those putting in the time.
Stop at the rock shop described below for possible park collecting advice. Please buy something from the owner if he helps you with directions.
Here are park maps:
A highly authoritative page on the geology of Rockhound State Park from New Mexico Tech, along with an explanation of all things geodes and thundereggs:
https://geoinfo.nmt.edu/tour/state/rockhound/home.html
The Basin Range Volcanics Geolapidary Museum
6235 Stirrup Road SE
Deming, NM 88030
575-546-4021
32°11.678′ N 107°38.768′ W
Just before the entrance to Rockhound State Park is this gem of a rock shop. Christopher is the proprietor here and an expert all things thundereggs and geodes. Although he doesn't sell geodes from Rockhound State Park, he did contribute samples for the Visitor Center's rock display. And he may have hints as to where to look in the Park. Take in a park map to make any directions easier to follow.
http://www.zianet.com/geodekid/index.html
Trina's Rock Shop
1812 Columbus Rd.
Deming, NM 88030
575-546-0348
32°15.048′ N 107°45.112′ W
Recommended by Christopher of the Basin Range Volcanics Geolapidary Museum.
https://www.trinasrockshop.com/shop/
Black Hat Trading
2785 US-180
Deming, NM 88030
575-494-4693
32°17.705′ N 107°46.008′
Recommended by Christopher of the Basin Range Volcanics Geolapidary Museum.
https://www.facebook.com/BlackHatTrading/
Hidden Valley Ranch RV Resort
12100 Hidden Valley Rd NW
Deming, NM 88030
575-546-3071
32°25.850′ N 107°45.658'W
Seemingly recommended by every rockhound in New Mexico and beyond. Bring your RV, tent, or rent a cabin. 25 miles from Rockhound State Park. Lots of rocks in the area of this working cattle ranch. Rockhounding a recommended activity by the Ranch, in fact, there is an annual rock show hosted here each March.
http://www.hiddenvalleyrvranch.com
Deming Luna Mimbres Museum / Deming Museum
301 S Silver Ave.
Deming, NM 88030
575-546-2382
32°16.003′ N 107°45.396′ W
History museum with large sections devoted to local geology. Recommended to me by an avid geode fan. An archived article from their website certainly confirms this. The text follows.
"The Deming Luna Mimbres Museum proudly displays a world-class exhibit of Thundereggs, Geodes, and Nodules donated by Robert (Paul) Colburn of the Basin Range Volcanics Geolapidary Museum. Rockhounds from all over enjoy this collection. Mr. Colburn has dedicated his life to the study of these geologic formations and is responsible for scientific redefinition of previously held 'truths'.
Thunderegg is a Native American name for what Geologists call lithophysae or spherulites. Geode simply means an earth shaped hollow rock, or more specifically, a hollow Nodule with a crystal lined cavity.
Nodules when opened may be simple or complex. While there is usually a "family resemblance" in Nodules and Geodes from a specific area, the best way to reveal the inner mystery is by opening the rock. You may become a Rockhound "wannabe" after seeing this incredible collection. You may have the sudden urge to become a detective unearthing (pun intended) the secrets of rock formation over centuries.
The specimens on display are the best from over 100 locations and were selected from tens of thousands of cuts made over 46 years of collecting. Each flawless specimen was chosen to typify the area where it was mined.
This collection provides a rare opportunity to view one-of-a-kind gifts of nature created over thousands of years. If your family or group includes a rock collector (rockhound), a future geology professor, or anyone who is marvels at the wonders that have been created in the millions of years of earth's formation, this is a sure hit for your visit.
Source of Information and photography: The Formation of Thunder Eggs (Lithophysae) by Paul Colburn."
https://www.lunacountyhistoricalsociety.com/highlights.html
—
https://www.instagram.com/tgfarley/
Follow me on Instagram: tgfarley
—