Thursday at the QIA PowWow
Thursday brought another day of beautiful weather to Quartzsite. A few wisps of clouds appeared from time to time, somewhat relieving the sun's powerful glare. Temperatures rose into the high 60's in the afternoon, shirt sleeve-weather but best taken in with a long sleeve shirt to prevent sunburn.
The day got warm enough that an alert went over the public address system about a few dogs that had been left in cars. Their owners were told to get back quickly to their vehicles before the police started breaking windows. This brings up the matter of dogs at Quartzsite – they are all over.
On a leash, hand carried, or in a stroller, big dogs and little dogs are all about the aisles at the PowWow. I've never seen a dog fight but there are occasional lunges and a few sharp barks. Young dogs are around that may not be used to crowds and there are tiny dogs that are vulnerable. Every owner I saw seemed to have a dog that was socialized or mostly so. The dog community is fully present at the PowWow as you hear constant compliments from people on each other's dogs. Big dogs seem to draw the most likes.
I could only visit a few vendors as I got wrapped up in long talks with each about their materials and collecting. I met quite a few people who knew people who I knew. One example was Kirk Brock at Rock Solid Jade at space 490. I showed him my jade key fob to see if he could identity its locality. He thought it most probably nephrite from Mendocino County in California. I said I carved it in Hesperia at the Mining Supplies and Rock Shop during a jade carving class taught by Mariana Shoupe. "Oh, yes," Kirk said, I know her quite well. I think she is here now at the show. "
This video looked great on my phone but it and a few others changed from landscape to portrait layout. I've attempted to rescue it with a frame.
Rock Solid Jade with Kirk Brock from Thomas Farley on Vimeo.
—
Another example was when I fell into two people who kept mentioning Utah locations for agates. I then noticed that one had a Southern Utah Rock Club hat on. "I'm a member!", I exclaimed. "I know Lynn. He showed me a great place for field agates that I would never have found otherwise." They smiled and said they knew this place near Cedar City well. The couple lived in Mesquite, Nevada and when the weather got too hot they would drive to that higher elevation to collect during the summer. This conversation took place at the space for Johnson Brothers Lapidary.
https://www.johnsonbrotherslapidary.com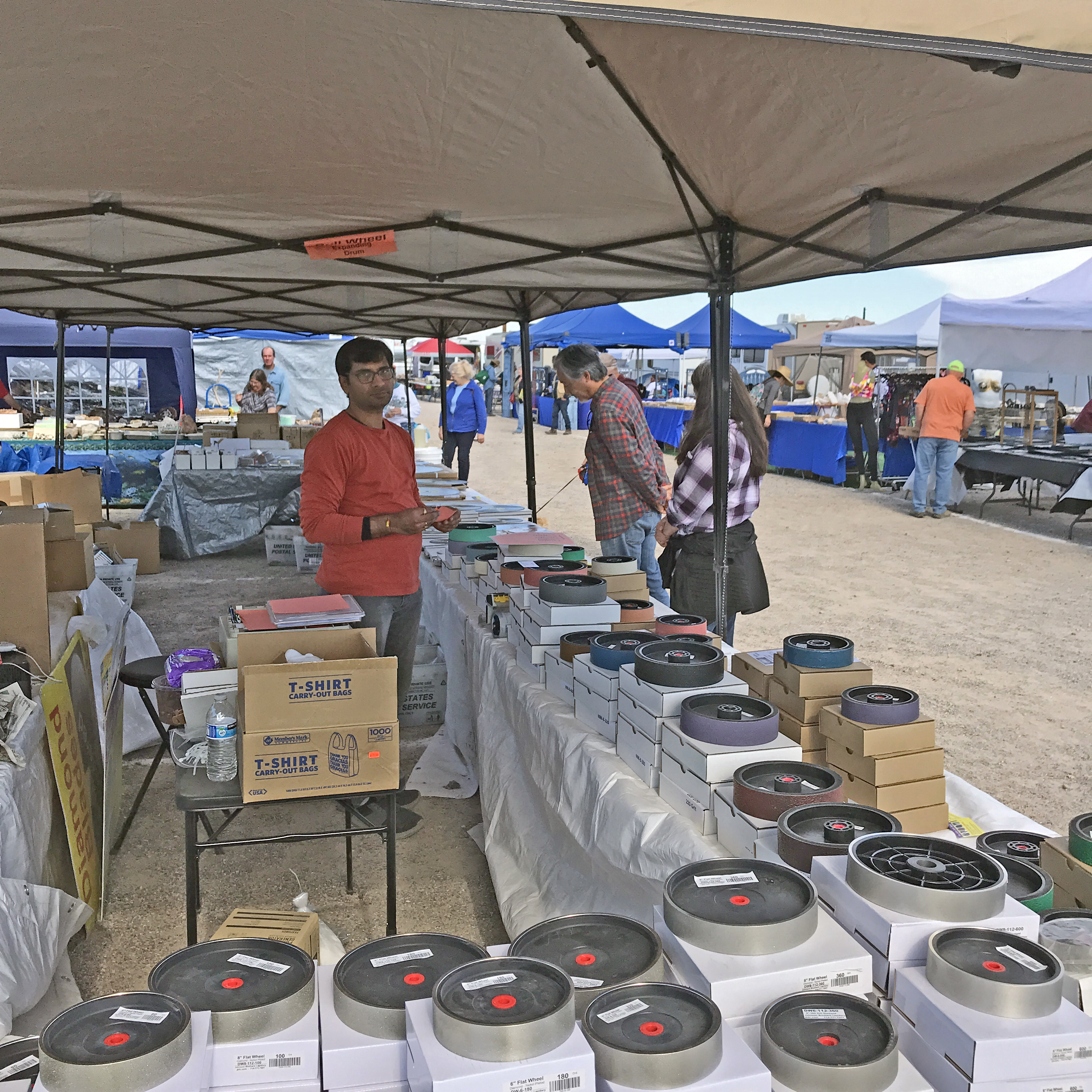 —
I've written that you'll never know who you'll meet in Quartzsite. Proof of that was when I stopped at Mike Martin's space, number 239 and 240. Lots of fossils. I am not a fossil guy but I know they are popular and I haven't covered fossils. So, I asked for permission to photograph and started asking questions. He looked at my business card and started repeating my last name. "Farley, Farley, Farley." I thought perhaps he had read one of my articles for Rock&Gem. Instead, he asked if I had any relatives in Humboldt County, California. I started to cry but held back my tears. "Just my late brother." "That was Tim! Biff Barker! He worked for me when I owned the radio station in Eureka. He was great. Everybody loved him. Great sense of humor." Tim worked a long time in radio and Eureka was where he found a home. He did morning drive and was absolutely fun to listen to. Mike allowed Tim to be himself and it was a very emotional time for me as we both exchanged memories of my past brother. Mike, by the way, does an enormous amount of self collecting and coin and relict hunting in England. Well worth a stop.
Mike Martin's e-mail is [email protected]
Mike Martin / Detector and Fossil Sales from Thomas Farley on Vimeo.
—
Inside the main hall are displays and, as always, the Ottesens. I didn't get a chance to ask them about how they are restarting the fee digs but they are. I've been out to the Royal Royston for my first Rock&Gem article and also to their Broken Arrow claim last year. Both terrific experiences.
https://ottesonbrothersturquoise
Inside the QIA Main Building from Thomas Farley on Vimeo.
—
Alexander Balagula of Unique Russian Mineral at space 326 provided me a chance to try out my rusty Russian. Alexander didn't correct me on my "Good morning and how are you greeting?" I felt good about that. He showed me some beautiful free form cabs of eudialyte on which he said he founded his business. He lists Fort Lee, New Jersey as his business address and the stone I eventually bought comes from the Kola Peninsula in Russia. To add to that that sense of going around the world, Alexander is a Russian Jew who lived for many years in Israel.
When someone asked him about his sign, Unique Russian Mineral and what it was, he smiled and said it mostly refers to himself. I liked his sense of humor. He will be in Tucson. His business card lists a website and an Etsy page but they don't easily reflect his offerings. The Etsy store is gemstoneworld. Try his e-mail or these phone numbers. E-mail: [email protected]. Cell phone: 201-647-4211. I had buyers' remorse about the stone I bought and Alex gave me full credit for the returned cab. I wanted what you see in the photo below but settled for something more affordable on Thursday. Don't settle or you'll go through a painful night of reconsideration. Yes, I got that piece with the plume of yellow sphene or titanite on Friday. I understand your jealously.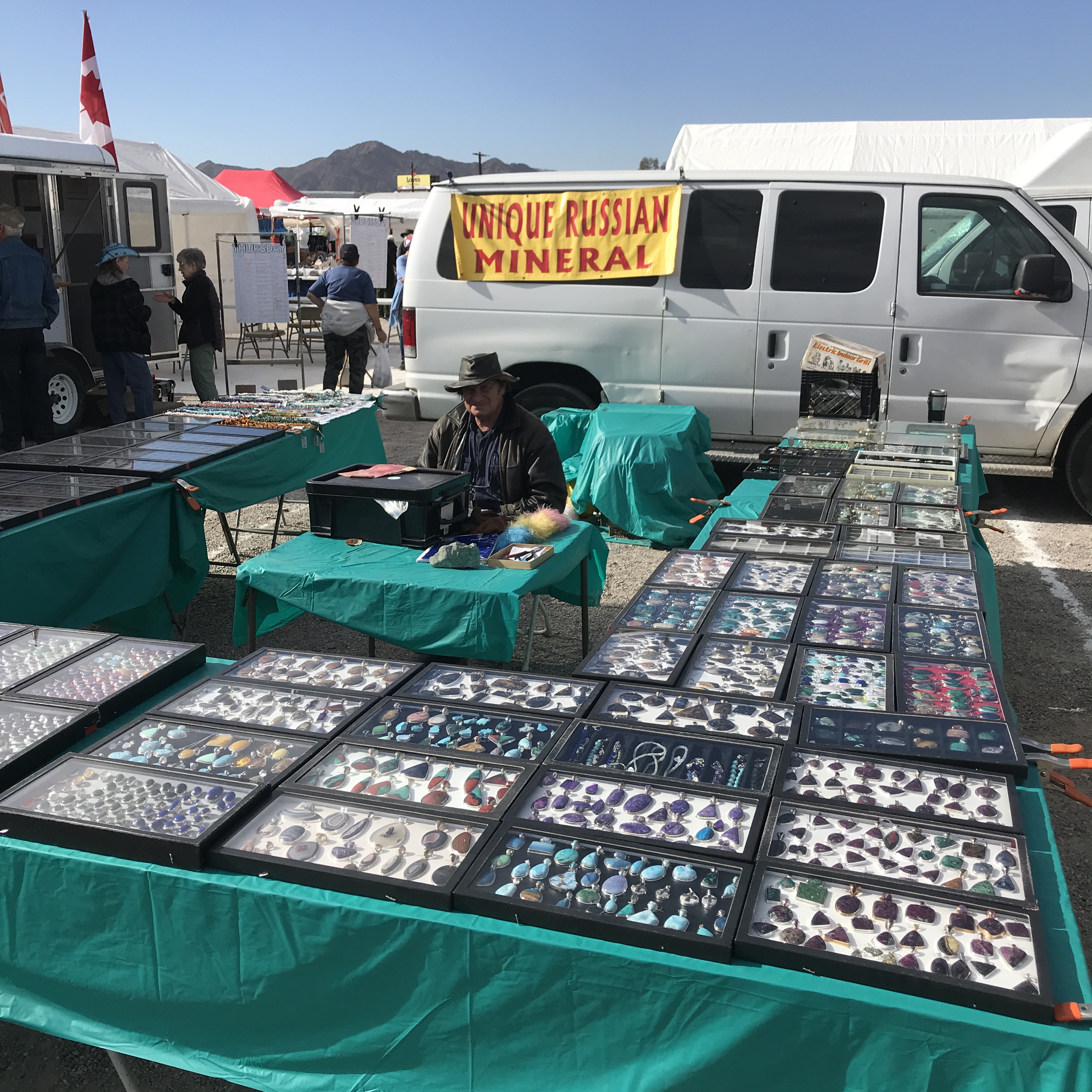 —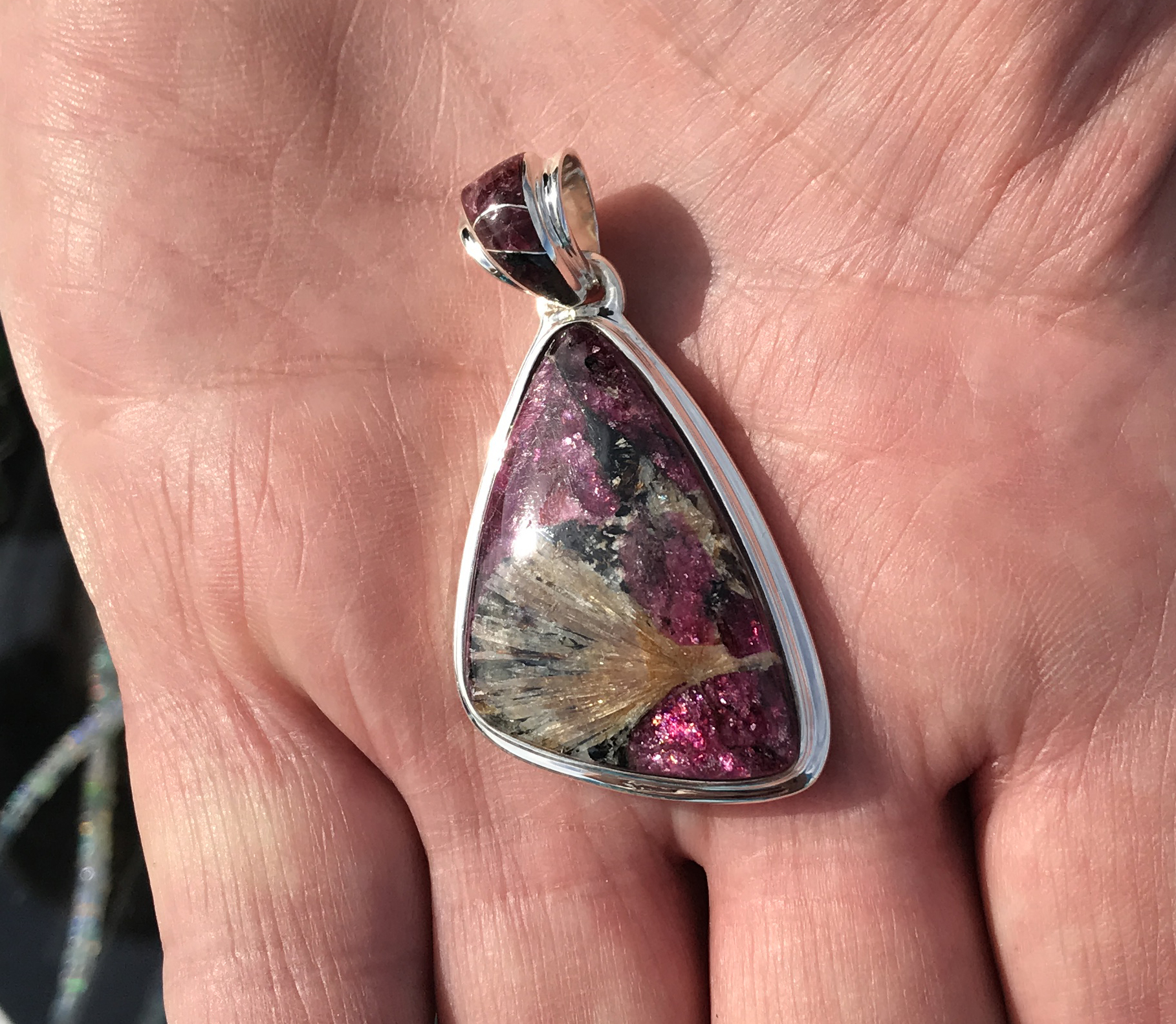 —
At one point I heard Pink Floyd being played on an acoustic guitar being played by a young man who calls himself DanTheCabMan. That's an Instagram handle for those who don't know. He played "Wish you Were Here" and I wished every rockhound could be there in Quartzsite, too. In the video he says he won't sing. I promised I wouldn't, either.
#danthecabman from Thomas Farley on Vimeo.
—
Here's a photo on Thursday of what I used to call vesicular basalt with peridot. Not particularly wonderful specimens but a teaching moment. I am now told this is more properly termed vesicular porphyritic olivine basalt. Of, course.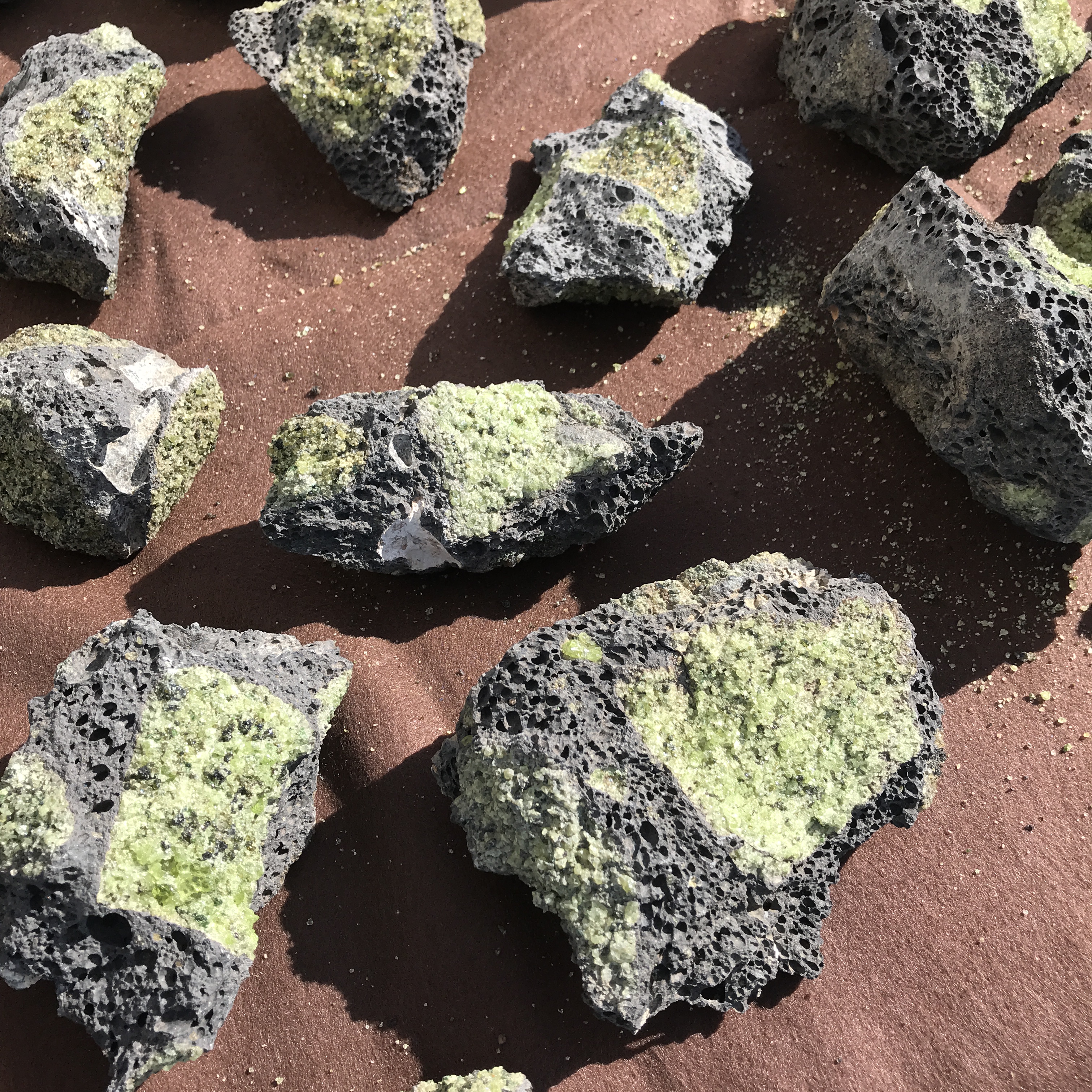 —
Practical points. I found my fabric and rubber hiking boots worked very well for walking the aisles. After all, I hike in them all day so it made sense they would work here. Whatever you use, make sure they are comfortable and perhaps have a backup pair in your vehicle in case they don't. Also, I found getting in touch with people is extremely difficult these days because everyone has their own preferences. Some use a mobile phone, others e-mail, some text, some message by Instagram or Facebook. I don't have advice on overcoming this but you may want to make arrangements before hand if you are meeting someone in Quartzsite. While the vendors will all be in a certain location, your friends may be bouncing all over towns at different venues. Speaking of which, tomorrow I will be going back to the PowWow for a little bit and then hitting Desert Gardens across the highway later on. Different material, bigger stuff, lots of rough.
Bonus footage! Non-Pow-Wow. I almost forgot Miner's Depot, a Quartzsite institution. I did a video on them on this second day and they are worth a lot more in print than I have time for here. They are less than a half mile north of city center. Great people. Gold spoken there.
Miners Depot in Quartzsite, Arizona from Thomas Farley on Vimeo.
—
Pow Wow Show Promoters
Mike & Carolyn Zinno
928-927-6325
[email protected]
Quartzsite Improvement Association
235 E. Ironwood Avenue, Quartzsite, AZ 85346
http://qiaarizona.org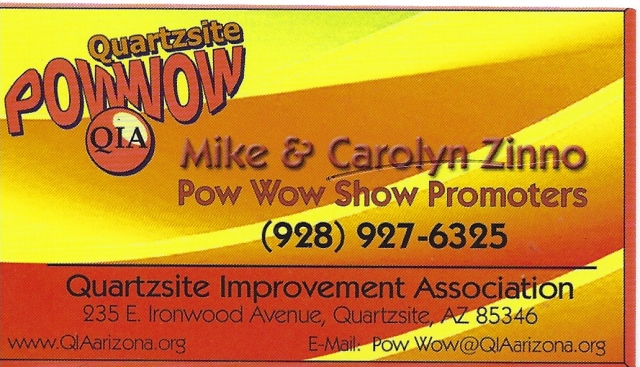 ---
You can read more about Quartzsite at Rock&Gem's website and Facebook page. (external link). I was covering the day to day at the PowWow for them this year and I have written extensively on all things Quartzsite in the past.



—
Follow me on Instagram: tgfarley
https://www.instagram.com/tgfarley/