Text from my Places to Visit and Collect in the Southwest file
Joe's Rock Shop
425 E 100 N or HWY 89@100 N
P.O. Box 116
Orderville, UT 84758
435-648-2737
37°16.671′ N 112°37.818′ W
https://www.facebook.com/joesrockshoputah/
Joes Rock Shop has been family run since at least 1952. It specializes in digging, cutting, and polishing septarian nodules, petrified wood and more. Rough and finished stones of all types. Custom rock cutting done. Located in Kane County whose county seat is Kanab.
Septarian nodules are limestone rocks filled with calcite and aragonite. Decorative patterns are revealed when cut open. Some show crystals from the outside. Orderville is the most famous locality for these uncommon stones. The owners provide local rockhounding directions when asked. They also ship by mail and are closed in the winter. A rock yard and eccentric oddities sold in the store itself.
A "glamping" campground with Yurts was operating across US-89 from Joe's Rock Shop when I visited in the fall of 2019. This area is picturesque and somewhat close to Zion, now charging thirty dollars to drive through. At least three other rock shops are along Highway 89 in Orderville. Maynard Dixon's summer home and a museum to him is further down the road in Mt. Carmel. If you don't know who Maynard Dixon is, I weep for you.
Update: June 1, 2020. Judging by their Facebook Page, Joe's is fully operational. You should go. Now. Pretty country. Dixie National Forest nearby with camping and some interesting road cuts.
My purchases. The one in the background has been polished on three sides and also left naturally open to display its crystals. The second is unpolished broken rough. Mild cream colored response to SW UV.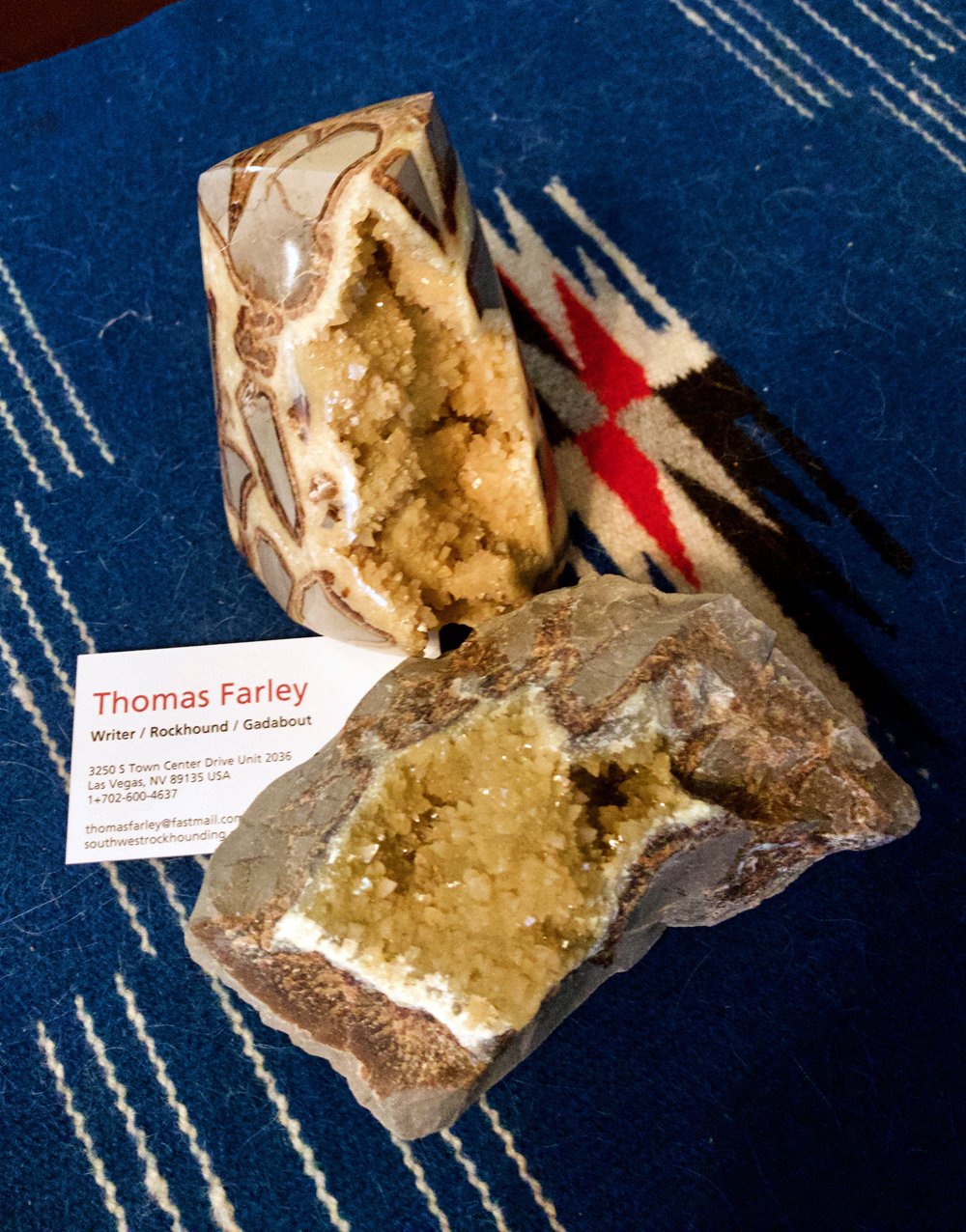 —

—
Follow me on Instagram: tgfarley
https://www.instagram.com/tgfarley/